« Back to News
Cornerstone Team Members Recognized at DOC's 2020 Management Summit
Our team always looks forward to the DOC Summit, and while this year's event was a little different being virtual, it was still a great way to connect with colleges thanks to DOC's efforts!
We are very proud to share that several of our Cornerstone team members were recognized at, and involved with, this year's event.
Charles Yeo was awarded the Strength and Resilience Award – awarded to an individual who against all odds stood out by preserving and delivering results time and time again during the most challenging environment in modern history. It was noted that Charlie got creative, never gave up to get leases signed, and continues to show an incredible amount of perseverance.
Our amazing Facilities Team in Kentucky was awarded the Building Engines Leader Award – awarded to an individual in the past, this year DOC decided to recognize the entire Kentucky team for being super users of the building engines platform to ensure assets are managed in a world-class fashion. The award is focused on customer service, communication , preventative maintenance, etc  – the KY team completed more than 5,000 preventative maintenance orders over the year to ensure the buildings are compliant and running efficiently.
Megan Drummond was a featured panelist on the Property Management Best Practices Panel focused on sharing best practices for monthly reports.
Thank you all for truly living out our Core Values on a daily basis – Caring, Creative, Character. We appreciate all you do!
Thanks DOC for putting together another amazing event and for being a valued partner over the years!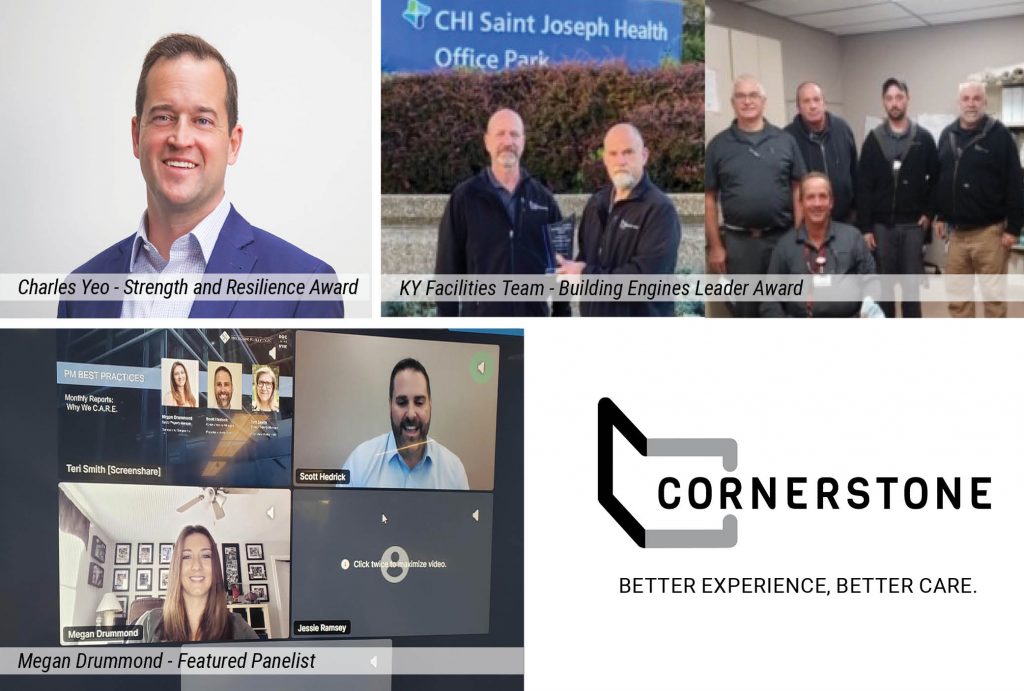 About Cornerstone Companies, Inc.
Cornerstone Companies, Inc. is a leading, fully-integrated healthcare real estate firm. With an exclusive focus on the healthcare real estate industry, Cornerstone helps physicians, hospitals and third-party owners develop, build, lease, manage and optimize their healthcare real estate while enhancing the patient and provider experience. To date, Cornerstone has successfully completed more than $1 billion of medical office developments and currently manages more than 100 medical facilities encompassing 6.4 million square feet.
Stop struggling to make the right real estate decision.
Choose a partner who can solve your Healthcare real estate needs and improve your patient care.