« Back to News
Cornerstone named to IBJ's Largest Indianapolis-Area Commercial Real Estate Brokerages
We are excited to share that our Brokerage team has once again been named one of the Largest Indianapolis-area Commercial Real Estate Brokerages by the Indianapolis Business Journal.
Cornerstone has been named to this prestigious list for more than five years. Our brokerage team has more than 75 years of combined real estate leasing experience, providing landlords and tenants with strategic real estate solutions tailored to meet their unique needs. This includes the leasing of new healthcare development projects, existing medical office buildings, and specialty facilities. As well as hospital and physician medical office building representation and leasing for refinancing or disposition purposes.   Ross GoyerCongratulations, team!
To learn more about how our brokerage team can assist you, contact our EVP, Brokerage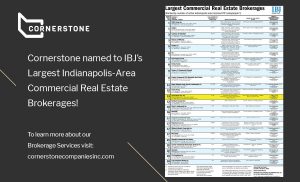 About Cornerstone Companies, Inc.
Cornerstone is a leading healthcare real estate firm, drawing on more than 35 years of experience. With an exclusive focus on the healthcare real estate industry, Cornerstone helps physicians, hospitals, and third-party owners across the nation develop, build, lease, manage and optimize their healthcare real estate while enhancing the patient and provider experience. To date, Cornerstone has successfully completed more than $1 billion of medical office development and construction projects, and currently manages more than 200 medical facilities encompassing 9M SF.
Stop struggling to make the right real estate decision.
Choose a partner who can solve your Healthcare real estate needs and improve your patient care.