« Back to News
Cornerstone named to IBJ's Largest Indianapolis-Area Commercial Property Management Firms
We are excited to share that our Property and Facility Management team has once again been named one of the Largest Indianapolis-area Commercial Property Management Firms by the Indianapolis Business Journal.
Cornerstone has been named to this prestigious list for more than five years. Our continued growth is a true testament to our amazing team and the service they continue to provide our clients.
Thanks for all you do!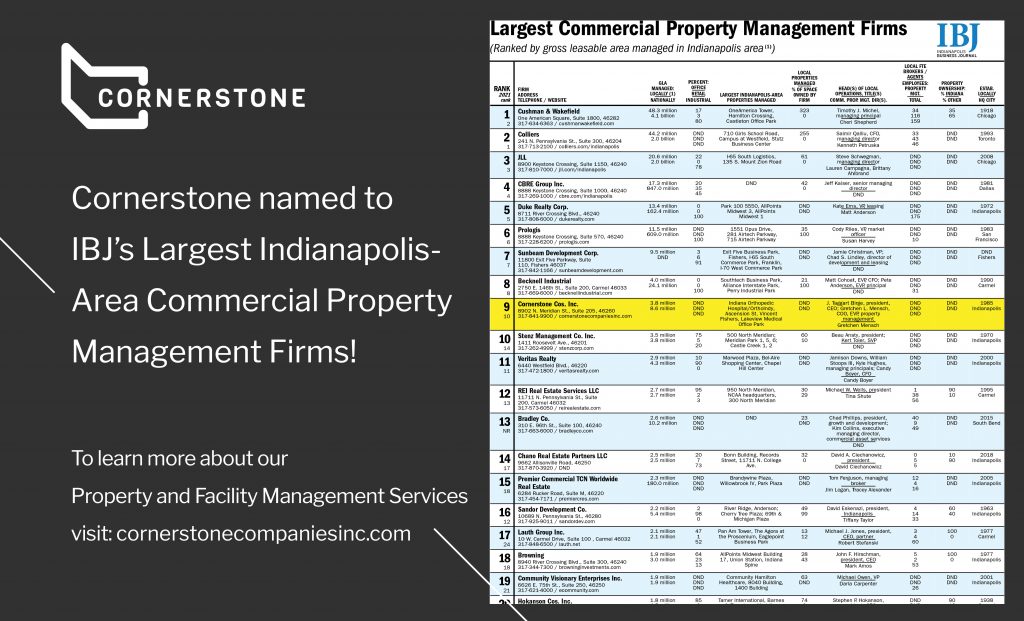 About Cornerstone Companies, Inc.
Cornerstone Companies, Inc. is a leading healthcare real estate firm, drawing on more than 35 years of experience. With an exclusive focus on the healthcare real estate industry, Cornerstone helps physicians, hospitals, and third-party owners across the nation develop, build, lease, manage and optimize their healthcare real estate while enhancing the patient and provider experience. To date, Cornerstone has successfully completed more than $1 billion of medical office developments and currently manages more than 200 medical facilities encompassing 8.9M SF.
Stop struggling to make the right real estate decision.
Choose a partner who can solve your Healthcare real estate needs and improve your patient care.