« Back to News
Cornerstone Companies, Inc. MOB Fund V Spends $59.9 Million to Acquire 9 Medical Properties in Six States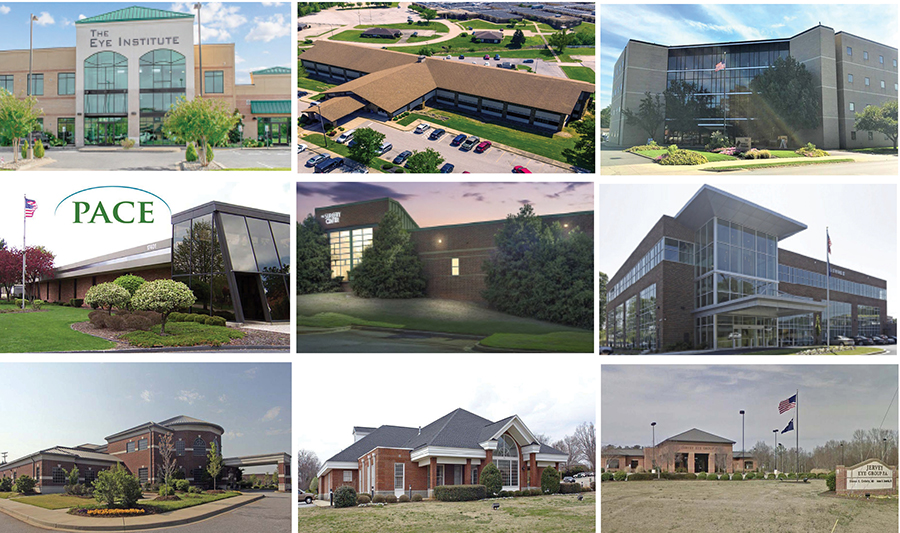 Cornerstone has acquired 9 healthcare real estate properties in six states totaling more than 300,000 square feet. The properties were acquired for $59.9 million by Cornerstone MOB Fund V, a private equity fund focused solely on medical real estate. Cornerstone is the fund's general partner.
The Fund V portfolio assets include:
The Eye Institute of Paducah, KY – a 21,000-square-foot ophthalmology clinic serving six market-leading specialists and their patients. The newly refurbished Eye Institute is tenanted by ECP Kentucky, the largest eye-care practice in the state of Kentucky with 22 ophthalmologists and 36 optometrists, serving patients in 55 locations. ECP Kentucky is a wholly owned subsidiary of Eyecare Partners, a national optometry and ophthalmology provider with more than 450 locations in 13 states. Cornerstone Fund IV currently owns a 23,000-square-foot ECP Kentucky clinic and ambulatory surgery center in New Albany, IN; and Cornerstone Medical Development is currently developing a 10,000-square-foot ophthalmological ambulatory surgery center in Elizabethtown, KY with an anticipated completion date of January 1, 2021.
The Northwest Medical Center in Poplar Bluff, MO – a 79,000-square-foot multi-specialty clinic operated by St. Francis Healthcare, a AA-rated health system serving 33 counties across southern Missouri. St. Francis Healthcare is currently completing a multi-million refurbishment to the Northwest Medical Center, which houses a full-service pediatric care center with pediatric urgent care, imaging, pharmacy and behavioral health clinic, as well as electronic medical records management for St. Francis.
The Danville Polyclinic in Danville, IL – a 57,000-square-foot multi-specialty clinic operated by OSF HealthCare, an A2-rated health system with 124 locations, including 13 hospitals, 18 urgent care locations, 11 centers for health, and two colleges of nursing throughout Illinois and Michigan. The mission-critical location is less than .2 miles from OSF Sacred Heart Medical Center, which OSF acquired in 2018. The Danville Polyclinic also contains a 5,000-square-foot ambulatory surgery center operated by OSF physicians. Cornerstone Fund II owns two OSF clinics, both of which were developed by Cornerstone Medical Development, in Dwight, IL and Godfrey, IL.
The PACE of Southeast Michigan Center in Eastpointe, MI – a 20,000-square-foot Program for All-inclusive Care for the Elderly (PACE) facility operated by a joint venture between Henry Ford Health System (A3) and Presbyterian Villages. Pace of Southeast Michigan operates five PACE facilities in the Detroit metro area, with the Eastpointe facility being the newest location in its portfolio. The PACE program utilizes Medicare, Medicaid and private funds to cover all medically necessary care and social services for its enrollees on a capitated payment basis. Cornerstone Fund I acquired and subsequently sold a PACE of Southeast Michigan facility located in Warren, MI.
The Surgery Center of Columbus in Columbus, GA – a 14,000-square-foot multi-specialty surgery center operated by a joint venture between Surgery Partners (NYSE: SGRY) and 26 specialty physicians. The 10-year-old Surgery Center is the top performing multispecialty center in Columbus, GA and the second-highest performing ambulatory surgery center within a 50-mile radius. The facility, which will receive $250K of tenant improvements in 2020, contains four operating rooms. The multi-specialty ambulatory surgery center features multiple service lines including ophthalmology, podiatry, orthopedics, otolaryngology, urology, and neurology. The ambulatory surgery center's diverse referral base and multispecialty capabilities create a wide reach for the facility, drawing patients from a 50-plus mile radius.
The Jervey Eye Group Portfolio in Greenville, SC – The four-property portfolio, totaling more than 111,000 square feet, is tenanted by the largest and market-dominant ophthalmology practice in Greenville, and the third-largest practice in South Carolina. Operating since 1999, with 12 ophthalmologists and 5 optometrists, the Jervey Eye Group performs more than 3,000 successful procedures for patients each year, including cataract extraction, intraocular lens (IOL) placement, eye muscle surgery, cornea transplant, retinal surgery, glaucoma surgery, and LASIK.  Completed in 2018, the Jervey Eye Group's newly constructed ambulatory surgery center is one of the first, privately held, physician-owned surgery centers for eye health in upstate South Carolina. The space includes 25 exam rooms, three operating rooms, and a laser surgery suite, totaling more than 32,000 square feet.
All the Cornerstone MOB Fund V assets are supported by net leases with a weighted average term of 12 years. The tenants are an impressive mix of investment grade health systems and market-dominant specialty physician groups. Fund V is projected to deliver a five-year average cash-on-cash yield of greater than 12.5 percent to its investors.
"By focusing solely on healthcare for the past 35 years, we've earned our place in the real estate market as a trusted, experienced, and innovative partner", said Bob Whitacre, the Founder and CEO of Cornerstone. "We place a priority in providing every single one of our healthcare providers a world-class environment in which they can provide quality care to their patients." 
Cornerstone's broad connectivity to the marketplace allows its Funds to attract unique opportunities and generate superior returns to its investors. Fund V's acquisition cost of $198 per square foot and an average stabilized cap rate of 7.7 percent, along with a modest leverage position of 73 percent, are all key components of Cornerstone's acquisition strategy.
"Being a full-service healthcare real estate firm sets us apart from other firms in the industry," said Tag Birge, President of Cornerstone. "With experienced teams delivering property management, leasing, brokerage, development, and consulting services, Cornerstone touches every aspect of healthcare real estate daily. No other firm in the country has the level of connectivity to the medical real estate market that we have at Cornerstone."
Cornerstone Fund V is consistent with Cornerstone's predecessor funds, having targeted mission-critical healthcare assets anchored by high-credit, quality providers. Fund V brings total Fund holdings to 24 properties across 12 states, totaling more than 610,000 rentable square feet and annual net operating income of $10.1 million. Each Fund asset is supported by a triple net lease with an average term of nearly 10 years, with single or anchor tenants of investment-grade quality or market-dominant physician groups.
"We have created an exceptional platform for our investors to receive excellent returns from an incredibly stable portfolio of high-quality assets," said Chad Dutmers, Managing Director of Cornerstone Funds. "The outlook for healthcare real estate remains extremely strong, and we are looking forward to introducing Fund VI to our investors towards the end of this year." 
Cornerstone has placed more than $44M of equity in the past four years. Cornerstone Funds delivered an average cash-on-cash yield of 10.8 percent to its investors in 2019, and Cornerstone Funds are expected to generate an average yield of 10.2 percent in 2020.
Cornerstone Fund I was liquidated in 2018, generating a cap-rate compression of nearly 100 basis points and providing an internal rate of return for its investors of 17 percent.
About Cornerstone Companies, Inc.
Cornerstone Companies, Inc. is a leading, fully-integrated healthcare real estate firm. With an exclusive focus on the healthcare real estate industry, Cornerstone helps physicians, hospitals and third-party owners develop, build, lease, manage and optimize their healthcare real estate while enhancing the patient and provider experience. To date, Cornerstone has successfully completed more than $1 billion of medical office developments and currently manages more than 100 medical facilities encompassing 6.6 million square feet.
Stop struggling to make the right real estate decision.
Choose a partner who can solve your Healthcare real estate needs and improve your patient care.