« Back to News
Midwest Real Estate News Recognizes Cornerstone as one of Region's Top Property Management Firms
We are pleased to share that our Property and Facility Management team has again been named one of the Top Property Management firms in the Region by Midwest Real Estate News! 
Each year Midwest Real Estate News releases it's Best of the Best list which honors top firms throughout the Midwest. Our management team, which manages more than 100 medical facilities and 6.4 million square feet nationwide, has continued to grow its management portfolio this year despite the unprecedented challenges created by the COVID-19 pandemic. This growth is a true testament to the remarkable team of experts at Cornerstone as well as the strong relationships we have built over the years with healthcare clients.
"The key to our property management team's continued success is absolutely the people," said Gretchen Mensch, Executive Vice President of Cornerstone. "We have the best property managers, facility supervisors, facility technicians and support team in the country. The current climate has created challenges, but our team has stepped up communication with each other and with clients and has used every method available to stay connected and to make communication as personal as possible."
Cornerstone is one of the nation's largest third-party healthcare real estate property management firms with more than 100 associates. Our property management team specializes in: the management of all leases and contracts; the oversight of day-to-day operations; compliance with the Board of Health and multiple accrediting agencies; capital and tenant improvements; collection of rent; and budgeting, financial analysis and reporting.
We are extremely proud to be recognized as a Top Property Management firm and we are very grateful to our Property and Facility Management Team for everything they do to help make Cornerstone one of the largest and best integrated healthcare real estate companies in the country. Our goal as a company is to continue to serve our healthcare real estate clients around the country and to enhance the patient experience!
Click here to view the digital edition of Midwest Real Estate News Best of the Best.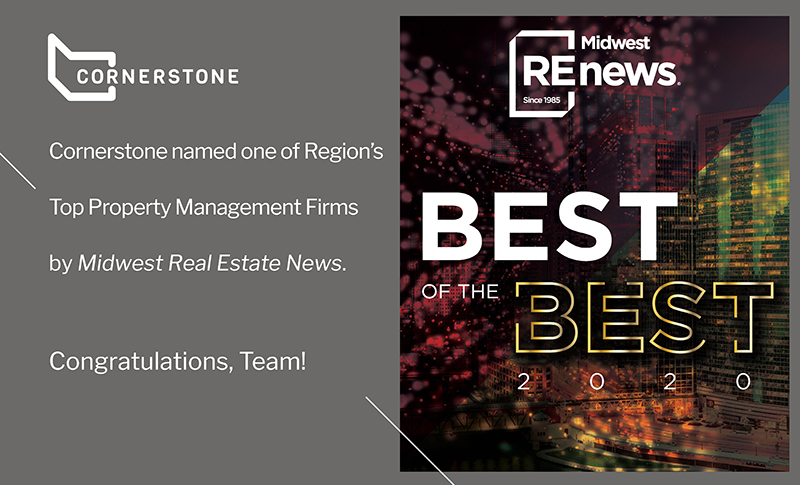 About Cornerstone Companies, Inc.
Cornerstone Companies, Inc. is a leading, fully-integrated healthcare real estate firm. With an exclusive focus on the healthcare real estate industry, Cornerstone helps physicians, hospitals and third-party owners develop, build, lease, manage and optimize their healthcare real estate while enhancing the patient and provider experience. To date, Cornerstone has successfully completed more than $1 billion of medical office developments and currently manages more than 100 medical facilities encompassing 6.4 million square feet.
Stop struggling to make the right real estate decision.
Choose a partner who can solve your Healthcare real estate needs and improve your patient care.